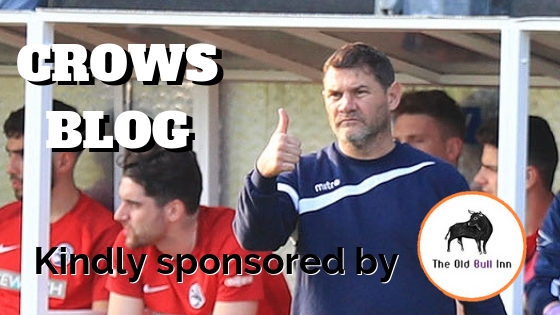 CROWS BLOG: Fantastic win!
The CROWS BLOG is kindly sponsored by The Old Bull Inn
CROWS BLOG: Fantastic win!
Hi everyone,
What a great night last night!
To a man the players were superb and considering the challenges ahead of them, it was all the more admirable!! We have definitely got a squad to die for at the moment!!!
A bit of a contradiction to my words at the weekend in as much as I yet again tinkered with the starting line up. This time on purpose. I obviously didn't want to give anything away for this Saturday's FA Trophy encounter but, that said, if we get to the performance levels the guys got to last night then I'd be just as happy!
So a few were 'rested' after an equally emphatic win on Saturday and for the boys playing last night, it would have been an easy excuse to just 'toss it off' because their immediate first-team opportunities may be restricted but, no, their approach was first class. As said to a player the boys performed so well that I was as proud as I've ever been as manager of Royston Town!
It's a very unusual situation in having to play a top-class team, like Boreham Wood in 2 competitions in 1 week. Obviously, neither of us have 'showed our hands'  both putting out different teams to what MAY be the selection for Saturday but hey, who knows?  All I can say is that the players last night have done as much as they can to put themselves in contention for selection and for that they have my total respect!
Cheers
Steve C
THE OLD BULL INN, a traditional 16th-century inn,  is located at 56 High Street, Royston, SG8 9AW and is the perfect place for both rest and rejuvenation. Whether you are staying in one of their comfortable en-suite rooms, cosying up around the open fire with a drink, dining in their restaurant or hosting an event in one of their function rooms The Old Bull Inn is sure to exceed your expectations!