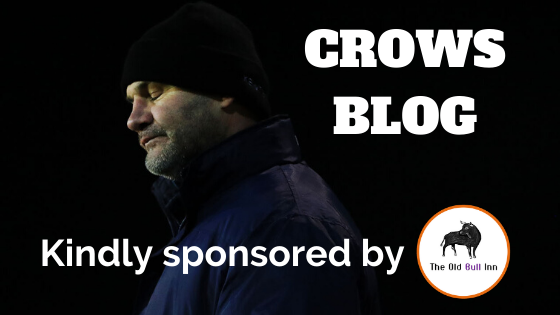 CROWS BLOG: Gutted but proud
CROWS BLOG: Gutted but proud!
Well, the journey ends but it ends with our heads held high!
We didn't quite get going last night but these boys have been absolute heroes throughout the season, performing week in and week out that an off night was hardly surprising! Why??
Well if I knew that one I would be a genius and I'm certainly not that lol!
Was it the occasion or the amount of football these boys have been playing? Could have been a bit of both.  I always feel with non-league football that midweek matches are always a bit of a lottery. We never know how the lads have prepared or how hard their day has been. Yes, it's the same for both sides you say but as I said a lottery both ways.
At this point, I have to say that our boys have generally been superb. Saturday, Tuesday, whatever, they have performed 9 out of 10 times which is a great testament to their abilities.
So, what now?
Now, the League! Starting this Saturday with a local derby against St Ives Town. It won't be easy to pick ourselves back up but this is where our resilience kicks in and also the strength of our terrific squad!
After the season is done we can possibly look back on our Trophy run with an immense amount of pride. It's too soon right now because it's still too raw! We took a team a league higher than us all the way AGAIN, only to be done in extra time by a dubious second goal where earlier on in the move we thought a foul had occurred on Adam Watkins.
So, it's a reset button for us all now. Rest for some, training for others. It's a time to be professional and look after themselves as best they can.
Now, this bit is really important to me and not only me but I'm sure the players and the board also – the amazing support from you guys!!
Thank you, thank you, thank you!
The Trophy run would not have been the same without you guys! The supporters coming by coach, mainly from our excellent Royston Town Youth but also the independent travellers who made their way down made for another amazing atmosphere!
To summarise, a loss but there's plenty to still play for in what can still be a very good season. We have accumulated a tremendous squad, they will all be needed so boys look after yourselves. There are approximately 6 weeks to the end of the season. 13 games, all of them 'cup finals' so please carry on the support and get yourselves down to Garden Walk and cheer the boys on!
Never boring!
Cheers
Steve C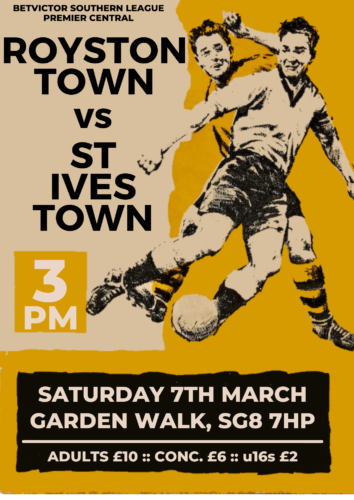 The CROWS BLOG is kindly sponsored by The Old Bull InnTHE OLD BULL INN, a traditional 16th-century inn,  is located at 56 High Street, Royston, SG8 9AW and is the perfect place for both rest and rejuvenation. Whether you are staying in one of their comfortable en-suite rooms, cosying up around the open fire with a drink, dining in their restaurant or hosting an event in one of their function rooms The Old Bull Inn is sure to exceed your expectations!