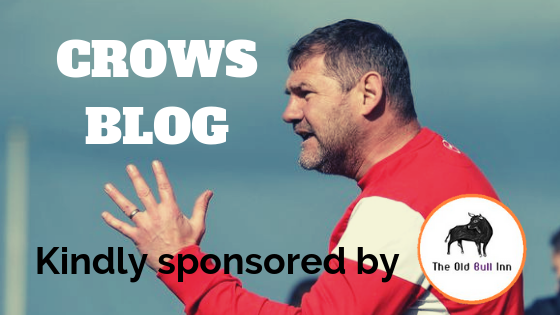 CROWS BLOG: Gutted
CROWS BLOG: Gutted
Hi.
It's a very low manager reporting in tonight, straight after our 3-1 loss in the 4th qualifying round of the FA Cup. What an opportunity missed in my opinion! Our 'habit' of conceding 'soft' goals continued and with very little good play on Maldon's part, they found themselves 2-0 up.
We started brightly enough and we were on the front foot, pretty much right up until they got their first goal. We were the team pushing things but I have to give our opponents full credit they weathered the early onslaught from us, and then added another before half time to give us more problems.
We are really having issues at the moment, at times in games playing ok, competing with whoever we play but then we kill ourselves with sloppy and poor play that often leads to a goal for the opposition.
On a positive note, it was great to see so many Royston supporters at the game. Over a 1100 is incredible! I'd like to take this opportunity to say thank you so much from all the players and staff. The atmosphere was really good starting the game and with our reasonable beginning, it made for a good amount of noise and excitement. But, sadly it was not to be. It will now be a very frustrating period watching who Maldon get in the draw, knowing that it could have been us!
However, life goes on and so does our season. We go straight back into action with a local derby on Tuesday against St Ives. We HAVE to pick ourselves up and get points. There's still plenty to play for this year. We have had a hard start to our League campaign, playing most of the top teams but now we need to get points and get our belief back!
Once again a massive thank you to everyone for your support to us. Let's hope we can create similar exciting times in the future!
Cheers
Steve C
THE OLD BULL INN, a traditional 16th-century inn,  is located at 56 High Street, Royston, SG8 9AW and is the perfect place for both rest and rejuvenation. Whether you are staying in one of their comfortable en-suite rooms, cosying up around the open fire with a drink, dining in their restaurant or hosting an event in one of their function rooms The Old Bull Inn is sure to exceed your expectations!