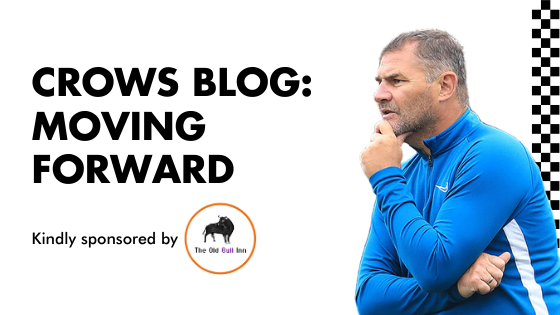 CROWS BLOG: Moving forward
First blog of the season and a warm welcome back to all supporters of the mighty 'Crows'. At the time of writing this post, I'm not sure of attendance yesterday but it looked healthy enough especially considering COVID requirements.
A 6-0 win was convincing but only when a stubborn Newmarket team run out of legs in the last half hour! For 44 mins they were well and truly in the game. We scored after 2 mins to give us a boost. I thought we could have then gone on and scored more in the first half but some poor play on our part and a couple of very good saves from the Newmarket goalkeeper kept it at 1-0 until right on half time when we doubled our lead, giving us the cushion we needed.
It was a strange half time team talk in-as much as the boys knew they hadn't done themselves justice but at the same time, they were 2-0 up, so not too bad! The first part of the second half was much of the same but then with tired legs and us putting on fresh ones we kicked on a bit more and got 4 more goals to make the result secure! From our point of view, obviously we will take the result but especially upfront in the first hour we looked 'rusty'. On the other hand, we looked good defensively, limiting our visitors to just 1 or 2 opportunities in the whole match.
At this point, you may have noticed if you were there, that there was no Chris Watters by my side as usual. Chris and his wife have had their second child and congratulations from all of us mate, there have been some complications so Chris quite rightly was at the side of his wife and newborn son. Our thoughts are with you mate and we're all hoping everything is fine as quickly as possible!
Back to the football and it's been a very busy week for the club in general to report. The Reserves obtained a good win on Wednesday, then a fantastic result from our 18's beating Godmanchester 3-1 in the FA Youth Cup – the first team came down after their training to watch and they were most impressed. And to cap it all the Women opened their season with a 1-1 draw today against Luton Town
So on the face of it, we are all moving forward but that's just one week! We all have a whole season in front of us and I'm sure there's plenty of drama to be had throughout. I, for one, am glad we have got going competitively. It gives lads the edge to excel and that's what has been missing.
Lastly, I would like to thank Lewis Endacott for stepping in to help me this week. It was to the detriment of our Reserves but hopefully, they can forgive us this once. To get over the line in the FA Cup was vital for all of us 'Crows!'.
Cheers for now,
Steve C
The CROWS BLOG is kindly sponsored by THE OLD BULL INN, a traditional 16th-century inn,  located at 56 High Street, Royston, SG8 9AW and is the perfect place for both rest and rejuvenation. Whether you are staying in one of their comfortable en-suite rooms, cosying up around the open fire with a drink, dining in their restaurant or hosting an event in one of their function rooms The Old Bull Inn is sure to exceed your expectations!