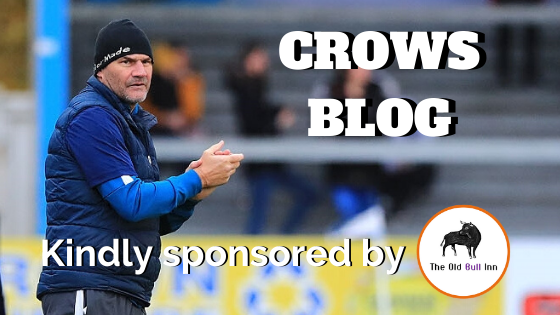 CROWS BLOG: No game, no training, no nothing!
CROWS BLOG: No game, no training, no nothing!
Hi all!!
No game, no training, no nothing to report on but still a blog to hopefully keep everyone up-to-date and still interested in our mighty Crows.
 I do think that now is probably as good a time as any to reflect on all of our achievements this season thus far.
 For me, this season as been about so much more than progressing on the pitch, although we have certainly done that!  It's about the feeling at home games, even away matches. Over the last 2 months and up to the break its been amazing. The players have noticed it and most have commented on the increased atmosphere.  Yes, the cup runs and the fantastic results that came from them have definitely surged the interest but for all the community to start to attend or even past supporters that have restarted coming I want to say a big THANK YOU from all players, staff and board members!
Royston Town Youth FC deserve a special mention for me. To see so many 'young uns' at our matches and to see them enjoying themselves is heartwarming, hopefully, they're making memories that will stay with them for ages.  I for one am so proud to be a part of this.
Obviously we could never have imagined what has happened in the World with this pandemic and of course however important we have all treated the emergence of our football club, nothing is as important as us all keeping safe and unharmed. At this point can I wish everyone good health and to stay fit and well, both physically and mentally!
 Back to the football and to 'crow about the Crows! –  Quite simply at times this season we have been superb! Both in cup competitions and the League!
There is a poll out on Twitter regarding the team of the season in our area and there are some great teams on there, all having achieved great things but surely nothing compared to what we have all done? The FA Cup, the League campaign and to cap it off, the amazing FA Trophy run. Everyone's entitled to their own views and obviously supporters of their respective clubs will show bias towards their own clubs but our success is, in my opinion, the tops!
 It may sound like I'm assuming the season is over and I believe it is, but then the FA have stated that they have rejected all proposals of Leagues finishing! IF it starts back up then great, we go on and win the League. If not and it's cancelled then it's void or we have a points-per-game system that could mean we finish in 2nd position. What that entails we still don't know, so to say it's a 'bit messy' at the moment would be an understatement.
How would the enforced break affect us? Well, all I can say is that the players generally came back in July very fit and got back into training amazingly quickly. I don't see anything changing. We are a very fit team and the break shouldn't worry us.
More importantly in these very worrying times, please stay indoors, look after the elderly and the at-risk and keep healthy!
Cheers
Steve C 
The CROWS BLOG is kindly sponsored by The Old Bull InnTHE OLD BULL INN, a traditional 16th-century inn,  is located at 56 High Street, Royston, SG8 9AW and is the perfect place for both rest and rejuvenation. Whether you are staying in one of their comfortable en-suite rooms, cosying up around the open fire with a drink, dining in their restaurant or hosting an event in one of their function rooms The Old Bull Inn is sure to exceed your expectations!