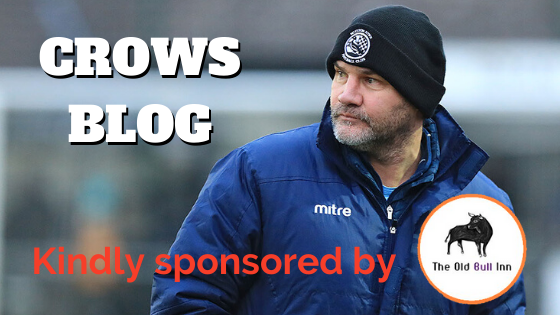 CROWS BLOG: No game!
CROWS BLOG: No game!
No game but still a blog to keep everyone in the loop in regards to players and their actions/movements.
Firstly I want to wish Dan Green a speedy recovery. Dan was unwell on Tuesday night, hopefully, nothing serious but all the same an illness. He didn't attend training, especially in the present circumstances and was also set to not be travelling to our scheduled away game at Leiston.
Also, Chris said that he felt 'below par' on Friday morning. Had the game been on I think he would have had to miss it too. Josh Castiglione got a bang on his foot in training and was also struggling to make it this Saturday.  So even though we were prepared for the match on Saturday, it being off wasn't that bad news for us.
Now to address the current situation that nearly every senior football club both full time or part-time have had to endure over the last 24 hours! I hasten to add that there was an exception in as much as the National League and both the National North and South decided to carry their Leagues on, for how long we don't know.
As far as 'The Crows' and our League, they (the League) have said that no games will be played until after next Saturday. That leaves us with a Monday night away trip to Stourbridge to get us back 'on it'.
Obviously, there's a chance that this 'break' could be extended but for the moment we must look at what is stated and act from there. So its a really tricky one for us to train lads. With all previous matches they could do with the rest but at the same time, we need to keep them ticking over. So we'll probably have them train Tuesday or Thursday and then Saturday, to get us right for Monday night.
I know there are loads of people giving opinions at this time but I do think that leaving the choice to experts is the most sensible approach. However, there are no consistencies to what is being decided! "Stop big gatherings," they say but then the big Cheltenham race meeting can carry on…
We have definitely not even scratched the surface of what the impact of this will be. We must obviously look after the  'at risk' parts of society but generally, we need to try to carry on as normal as possible.
I do wish everyone reading good health and please look after yourselves!
Cheers!
Steve C
The CROWS BLOG is kindly sponsored by The Old Bull InnTHE OLD BULL INN, a traditional 16th-century inn,  is located at 56 High Street, Royston, SG8 9AW and is the perfect place for both rest and rejuvenation. Whether you are staying in one of their comfortable en-suite rooms, cosying up around the open fire with a drink, dining in their restaurant or hosting an event in one of their function rooms The Old Bull Inn is sure to exceed your expectations!