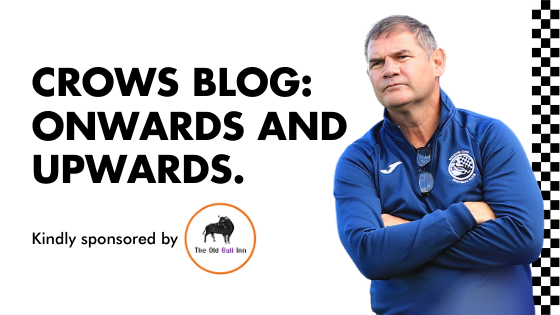 CROWS BLOG: Onwards and Upwards
CROWS BLOG: Onwards and Upwards
Hi guys!
I thought I'd relay my thoughts after what ended up an 'unusual' match against King's Lynn on Saturday.
Firstly, many thanks to Ian Culverhouse and Paul Bastock for bringing their team to Garden Walk. I'm sure they got a lot out of the match as did we but for totally different reasons! The difference? The result obviously!
Pre-season we all say, so results are irrelevant to a degree but ultimately that's what we as semi-professional footballers are all about so no it isn't!  On a positive note, our start was very good. We got about our opponents very well and gave them no room to play and created some fantastic opportunities to score! The crucial thing was, we didn't – and as football does so often it kicks you where it hurts most, 2 King's Lynn opportunities and 2 goals! Fair play to them and they probably showed the reason why they are plying their trade 2 levels above us but if our talented lads want to get to these levels then they must realise that it's all about goals and assists!
Anyway, at the moment we do have the luxury of 'experimenting' a bit and looking at lads in different positions. Like most teams, we have had our share of trialists – some have done extremely well but it's all an ongoing process.  Generally, it's been positive.
Unfortunately, on a negative we've picked up a few injuries over the last couple of matches, hopefully, nothing long term but we may have to adjust certain things. But it's all in a seasons work!
Onwards and upwards!
Cheers,
Steve Castle
The CROWS BLOG is kindly sponsored by THE OLD BULL INN, a traditional 16th-century inn,  located at 56 High Street, Royston, SG8 9AW and is the perfect place for both rest and rejuvenation. Whether you are staying in one of their comfortable en-suite rooms, cosying up around the open fire with a drink, dining in their restaurant or hosting an event in one of their function rooms The Old Bull Inn is sure to exceed your expectations!