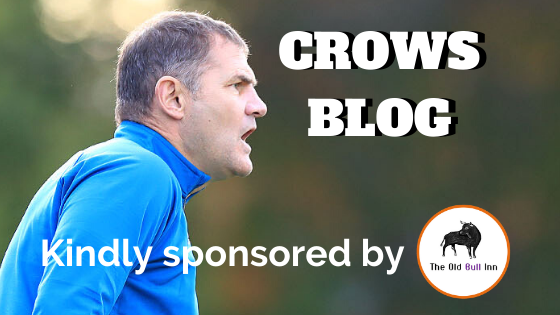 CROWS BLOG: Put in our place
CROWS BLOG: Put in our place
Football eh! Just when you think everything is going how you want it to go, it goes and kicks you up the backside with a result last night!
Yes, I know I said it wasn't a priority and in the bigger context of things, we didn't lose points but it was a semi-final, and more importantly, it was an opportunity for lads to show everyone that they deserved to stay in the first team. I won't say that it was everyone and also, some players are on different journeys in regards to fitness/lack of match minutes, but all the same as a team we were awful! I'll stop at that, the rest can stay in the dressing room where Chris and I gave what I think was an honest appraisal of last night's 'performance'.
Right now my thoughts are to not make too much out of last and to move swiftly on. Generally, the players have been superb week in, week out. It happens but now we must get back into the swing of things quickly.
Next up is Leiston away this Saturday. It will be a tough game, they have got themselves off the bottom of the League and have had a few very good results so we will give them due respect. That said, I for one are looking at ourselves now, can we keep the levels up, can we get the work rate as normal and also the quality that we have shown in more games than not. The League run-in will be very exciting with, as I see it, 4 clubs involved but us and Tamworth have the edge at the moment. I'm sure situations will change. At the moment both us and Tamworth have games in hand. Fantastic… but only if we win them!
The hardest task for us staff is to get the right team out there game after game. With pretty much 3 games a week now the task is enormous. We need to try to keep everyone as fresh as they can possibly be but at the same time, it's vital that we keep some continuity going. In general, it's all good. All of the boys are desperate to be involved and keep being involved. I'm sure, as we all do, that something special is happening at the club right now. It comes from great support, good play and positive results. Will we win the League? Who knows but we are all going to give it a bloody good go!
Cheers
Steve C
The CROWS BLOG is kindly sponsored by The Old Bull InnTHE OLD BULL INN, a traditional 16th-century inn,  is located at 56 High Street, Royston, SG8 9AW and is the perfect place for both rest and rejuvenation. Whether you are staying in one of their comfortable en-suite rooms, cosying up around the open fire with a drink, dining in their restaurant or hosting an event in one of their function rooms The Old Bull Inn is sure to exceed your expectations!