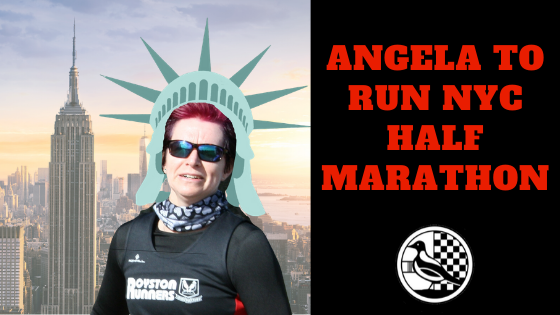 Start spreading the news… Angela Baulk to run NYC Half Marathon
Club Welfare Officer Angela Baulk will take on the mean streets of New York City next Sunday (15th March) in the 2020 United Airlines NYC Half-Marathon. She'll don her running shoes to pound the 13.1 mile route from the start in Brooklyn, over the Manhattan Bridge, through the iconic streets and avenues of Manhattan including Times Square to the finish line in Central Park.
Angela is no stranger to long-distance running having previously completed both Marathons and Half-Marathons (including Cambridge Half Marathon last weekend!) and she is an active member of our local running club, Royston Runners.
Like many runners, Angela has raised valuable funds for various charities at different events and this time she has chosen two causes very close to her heart – Royston Town Youth FC and our own Community Program. Angela has been involved with both Royston Town FC (RTFC) and Royston Town Youth FC (RTYFC) for many years. All 3 of her sons have played for our Youth sides since they were 6 years old, with her 2 older boys now playing for RTFC. Her youngest son currently plays for RTYFC U11's.
As an RTFC Board Member Angela is well aware of the hard work, time and effort that's needed to keep a football club such as ours running and ensuring that the football is enjoyable and fun and accessible to all in our community, even for a reasonably sized club like ours.
Angela has set herself a fundraising target of £1000 with this sum being split evenly between Royston Town Youth FC and our Community program. RTYFC will use the funds to ensure that participating in football is open and accessible to all within the Royston community. For 'Royston Town FC in the Community' all monies raised will go towards forthcoming community projects (e.g bullying workshops) that will benefit local kids and parents regardless of if they are members of the club or not.
Angela is now agonisingly close to reaching her target and hopefully the Crows faithful can push her over the line in her fundraising and also give her extra motivation in NYC!
If you'd like to donate, Angela's JustGiving page can be found here