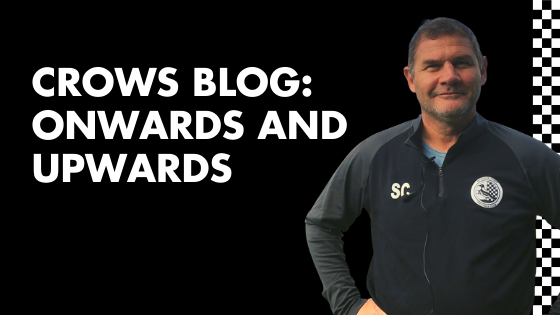 CROWS BLOG: ONWARDS AND UPWARDS
CROWS BLOG: ONWARDS AND UPWARDS
Hi everyone!
A little bit later doing the blog than normal, not for any reason in particular, other than a busy weekend.
For anyone who attended our game against Cheshunt on Saturday, let's be honest it wasn't great! Why? I'm still shaking my head to work that one out. The best I can say is that it didn't cost us 3 points and as I've previously said pre-season is a process and it doesn't always go as smoothly as we all want it to.
I could think of a few  'excuses' for Saturday, namely Ronnie Henry's injury which did disrupt things a lot, but what we need from the players playing is to rise above it, adjust and carry on the performance.
I have to say at this point, credit to our opposition Cheshunt. They did exactly what we expected them to. They pressed us and they had a lot of success doing it and they gave us problems throughout. From a coaching point of view, this performance and result were good for us in my opinion. The lads, who are an honest bunch knew that it just hadn't happened and they were eager to 'talk it out' after the match which is always a good sign. We're not going to dwell on the negativity of Saturday too much, as I've said previously pre-season is about 'ups and downs' and we have to move 'onwards and upwards'.
Tonight we travel to Potters Bar Town. This is sure to be another good test against another team playing at the same level as us. We'll certainly need to compete better than we did but hopefully, the players have learnt from the weekend and realise that there are only 2 weeks before we start for real!
Cheers,
Steve C