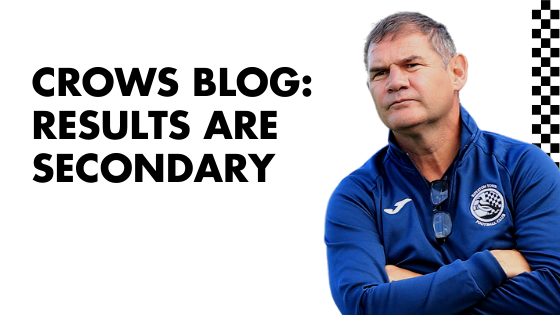 CROWS BLOG: RESULTS ARE SECONDARY
CROWS BLOG: RESULTS ARE SECONDARY
Hi,
I'm writing this post just as I've got in from our latest pre-season match. A 3-1 defeat to fellow level 3 team Potters Bar Town. Not good, but as I've previously said just part of the highs and lows of football especially during pre-season. I do want to say thank you to our hosts. It was a lovely pitch to play on and they were a competitive team to compare ourselves against.
So, what of the game itself…
1st half……………… Enough said!
2nd half – Some good performances from our younger lads including Elliot Kettle, our trialist in midfield. Fred Brown did his cause no harm at all and Finlay Titchmarch put in some telling crosses and looked a lot more comfortable. In fairness to the group, there was a definite response from the first half but unfortunately, with regards to the overall result, we couldn't get another goal which may have made the game closer.
Having got quite a few pre-seasons under my belt, I know that the results of individual games are always secondary. Some years the results are more positive than not and then when the league starts the results dry up. Other years are the opposite, so let's just hope that is the case this year.
We certainly haven't been helped with injuries. They have been a constant throughout our pre-season campaign. Hopefully, we can get a few more bodies back for our last pre-season match against Millwall U23s at Garden Walk on Friday night. Dan Newton should be fine to return following his recovery from Covid and I'm hopeful that Ed Asafu-Adjaye can get some minutes in after his back problem. On a brighter note, it was nice to see Dan Green getting another outing tonight. With a bit of luck, he can now push on and get himself back in contention for a place.
Obviously, another positive is the signing of Harry Draper, on loan from Stevenage. Harry has had some injury issues himself but we are looking forward to him starting with us on Friday.
As you are aware I'm keen to keep everything upbeat but I'm sure that for many that read my blog you can read between the lines. I will not slate the lads publicly but we do all need to 'pull our socks up' and get back to our previous high standards. I'm sure it will happen and Millwall at home on Friday would be a good time to start!
Cheers
Steve C