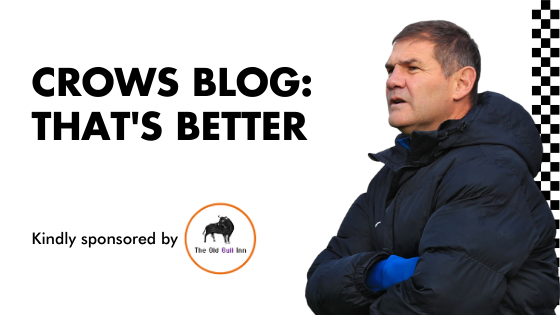 CROWS BLOG: THAT'S BETTER
CROWS BLOG: THAT'S BETTER
Good morning!
We're getting there!!
A good win against a very good team last night and very satisfying in so many ways!
We had a few missing last night and had to adjust accordingly. Hitchin would have been very aware of how we generally play formation wise and  I'm pretty sure they would have thought that we'd line up as we did on Saturday in a 4-4-2 formation. We tried to surprise them by changing that and went with wing-backs in a 3-5-2 formation.
In fairness to them, they had the upper hand in the first half,  with us adjusting to our change in formation but at the same time, we were quite solid and looking to catch them on the break. So 0-0 at half time, a couple of chances for both teams but generally a stalemate. To a degree it suited us but always wanting to win the game we reverted to our more familiar shape and really took the game to them. At this point, I must praise all the players fully. They took the change on the chin, were very positive in the approach and in my opinion, we got the win we deserved.
As I said, we were missing players a few of the more experienced lads and we had to rely on a few of our younger members and boy did they do well! Dan Newton moved from right centre back in the first half into midfield and for the second and was superb. Also, Isa Rotimi coming into the midfield and in the second half, playing higher up, he got himself on the score sheet which he thoroughly deserved too!
But I don't want to leave any lads out – ALL of them that were out there last night contributed to the win.
Hopefully, this victory can now spur us on. It hasn't been easy recently – the expectancy and the standards we'd set previously have all been a bit of a weight on our shoulders but now I hope we can play with a bit more freedom and show what a good team we are.
On to Saturday now and the FA Trophy. We have a home tie against Hythe Town and I'm sure that none of you needs reminding of our exploits in the Trophy last year. If we can get close to those accomplishments then we would be happy. But as ever I'm greedy for more and I'm gonna ask us to not only match it but push again! It's a big ask I know but who would have thought we could do what we did last year!
The great thing for me last year was not only the cup run but also the form in between, we just seemed to get better and better. I'm sure we would all like that but let's not get too carried away – win this one and see where we can go!
Confidence is paramount in sport and that is what we need to grow, winning games does that as well as good solid performances. We had both last night so let's push on from here
Finally, I want to say a big thank you from the entire squad and staff to all the Crows who travelled to Hitchin last night – a relatively short journey I know but your support is very appreciated and it was great to see and hear a sizeable Royston contingent in the sell-out crowd of 600.
Cheers!
Steve C
The CROWS BLOG is kindly sponsored by THE OLD BULL INN, a traditional 16th-century inn,  located at 56 High Street, Royston, SG8 9AW and is the perfect place for both rest and rejuvenation. Whether you are staying in one of their comfortable en-suite rooms, cosying up around the open fire with a drink, dining in their restaurant or hosting an event in one of their function rooms The Old Bull Inn is sure to exceed your expectations!